Join our active Facebook group to get more resources and answers to your burning questions.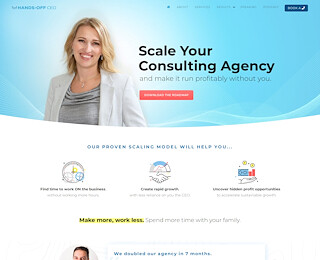 Digital marketing is an essential part of any business's marketing strategy. From reaching potential customers through social media to creating engaging content and running targeted advertising campaigns, digital marketing offers a wealth of opportunities for businesses to connect with their audience and drive results.
But with so many different digital marketing channels and strategies to choose from, it can be overwhelming for small business owners to know where to start, and no one can afford the loss of time and money that comes with DIY digital marketing or throw-stuff-at-the-wall-and-see-what-sticks digital marketing. That's where a digital marketing coach comes in.
What is a Digital Marketing Coach (Online Marketing Coach) & When to Hire One?
An online marketing coach is an expert in the field of digital marketing that can help you develop strategies and tactics to increase sales, promote brand awareness, and drive website traffic. With their specialized knowledge and expertise, they can provide invaluable insight into how to leverage your current online presence to maximize your reach and impact.
When it comes time to hire an online marketing coach, it is important to find someone who has the right experience and knowledge that fits your needs. This means looking for an expert with a proven track record of success in digital marketing, either as an agency or with their own business. Additionally, they should have the industry knowledge to be able to provide you with effective guidance and support in your online marketing efforts.
Ideally, you should opt for an experienced coach who is well-versed in current trends and best practices related to digital marketing. This person can offer the guidance and support needed to ensure success with your online marketing campaigns. They can help develop strategies tailored to meet your goals and objectives, while staying abreast of the ever-changing landscape of online marketing.
Having a knowledgeable coach on-hand can expedite the process and provide tangible results in a shorter timeframe than if you were to go it alone. Their experience, knowledge, and insight make them an invaluable resource for any business looking to take its digital marketing presence to the next level.
Hire an Online Marketing Coach to Save Time & Money & Become More Profitable
Hands-Off CEO is where you can find an online marketing coach who specializes in helping small businesses succeed with their digital marketing efforts. With years of experience in the field of digital marketing, Hands-Off CEO has the knowledge and expertise to help small businesses create and implement a successful digital marketing strategy that will reach the right customers and drive results.
Whether you're looking to improve your social media presence, create engaging content, or run targeted advertising campaigns, Hands-Off CEO can provide the guidance and support you need to succeed. From helping you choose the right digital marketing channels to creating a comprehensive digital marketing plan, Hands-Off CEO has the expertise and knowledge to help your small business thrive. And the best part?
Get Your Free Digital Marketing Coach Consultation Today
Hands-Off CEO offers a free digital marketing coaching consultation to help small business owners get started. This consultation is a great opportunity to learn more about how digital marketing can help your business grow and succeed, and to get personalized advice and guidance on how to create a successful digital marketing strategy.
So if you're a small business owner looking to grow and succeed with digital marketing, don't hesitate to reach out to Hands-Off CEO. With their help, you can create a successful digital marketing strategy that will help your business thrive. Contact Hands-Off CEO today to learn more and schedule your free digital marketing coaching consultation.