Join our active Facebook group to get more resources and answers to your burning questions.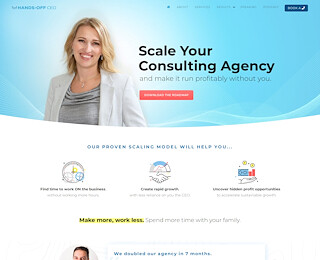 If you own or manage a consulting agency, then we would like to offer you the Agency Cash Flow Roadmap. If you want to learn about best practices for scaling your business, the Agency Cash Flow Roadmap is for you, and you can download it free on this website's home page.
The Agency Cash Flow Roadmap is essentially a checklist of key steps that can help an agency to grow and thrive, such as identifying target markets, building a strong team, and developing a comprehensive marketing plan.
By following the guidelines outlined in the Agency Cash Flow Roadmap, a consulting agency can improve its chances of success and maximize its revenue potential. Additionally, the Agency Cash Flow Roadmap can help a consulting agency to stay organized and focused, which can be especially important as the business grows and becomes more complex.
Learn About Agency Growth Guide
To start growing your agency, you will need to gain knowledge. This knowledge can be obtained through study and learning and doing it all on your own. You could also save a lot of time and money, failures, and trials and errors, by simply partnering with Hands-Off CEO.
Hands-Off CEO can help you scale your consulting agency. Hands-Off CEO can teach you how to make your business profitable without you. You will learn how to be the hands-off CEO.
When to Hire an Agency Consultant?
There are many potential problems that agencies might face that could require the assistance of an agency consultant. Some common examples include:
Struggling to attract and retain clients

Facing intense competition from other agencies

Struggling to keep up with changing market trends and consumer preferences

Having difficulty implementing effective marketing and advertising strategies

Experiencing challenges with team collaboration and communication

Struggling to manage and prioritize their workload effectively

Facing financial challenges, such as managing cash flow or increasing profitability

Struggling to adapt to new technology or industry changes
These are just a few examples of the many challenges that agencies might face, and an agency consultant can help to provide guidance and support in addressing these issues and achieving success.
What Happens When You Hire an Agency Consultant?
When you hire an agency consultant, you are essentially bringing in an outside expert to help your business with a specific problem or area of improvement.
The consultant will work with you and your team to assess your current situation, identify any issues or challenges, and develop a plan of action to address those issues and help your business achieve its goals.
This could include things like developing a new marketing strategy, improving internal processes, or providing training and support for your team. Overall, the goal of hiring an agency consultant is to help your business become more efficient and effective in achieving its objectives.
Read: How to Grow an Agency (Download on Our Home Page)
As an agency, you know how important it is to have a solid plan for managing your cash flow. That's why we've created the Agency Cash Flow Roadmap, a free guide that provides step-by-step advice on how to improve your financial management and increase profitability. Click here to download your copy now.
If you're looking for more comprehensive support with your agency's challenges, our team of experienced consultants is here to help. Contact us today to learn more about our agency consulting services and how we can help your business achieve its goals